Application Guide Without Service Fee Guide you how to apply for studying in Shaanxi University of Science & Technology & Study in sust
Application Period & Documents 2019
Application Period and Program Duration
Bachelor Student: March 10thto June 30th
Master Student: March 1stto June 30th
October 15thto December 31st
PhD Student: March 1stto June 30th
October 15thto January 31st
Chinese Language Student: Throughout the year. The full quota will be closed.
Application for spring semester will end on December 31stof the former year;
Application for autumn semester will end on June 30thof the year.
At SUST: first semester – September to January; second semester – March to July.
Undergraduate programs 4 years
Master's degree programs 3 years
Doctorate degree programs 3-5 years
Short-term classes of Chinese language 6-12 months
Application Documents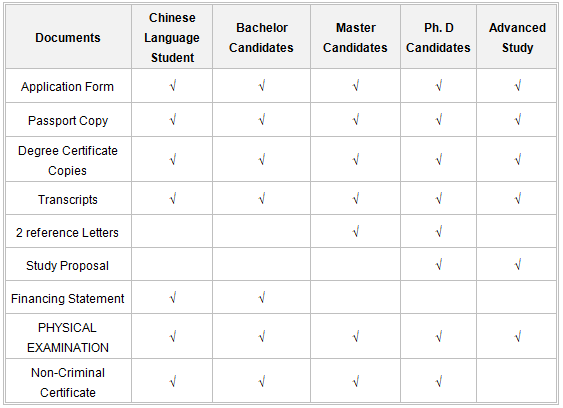 Note: non-English-native speakers should provide else IELTS or TOEFL.
1. Please complete the form in Chinese or English. If the form is not filled in on PC, please write legibly in black or blue ink with "X" in the black chosen.
2. Please email the application materials (better in PDF) and mail hard Copy of the application materials
3. The University will reply with a Pre-Admission Notice in 2 weeks; within another 4 weeks, an Admission Letter and JW202 for visa application will be sent to students by post mail if get authority approval.
4. DO Name each file as CERTIFICATION/PASSPORT/TRANSCRIPT etc to show what it is.
ANY application without application form or RANDOM-NAMED would be ignored.